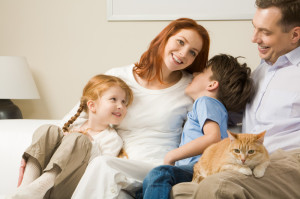 If you're the superstitious type, you probably take steps not to jinx a certain outcome. You know, like counting down the days to spring, putting absolute faith in the belief that the day spring arrives, life will suddenly become more enjoyable.
Superstitious or not, the heating season isn't over yet, and no amount of wishing or hoping will quicken the arrival of spring. That means, among other things, that there's still plenty of time for something to go wrong with your furnace. And how ironic would that be if it's served you well all winter long, only to "spring a gasket" shortly before the end of the heating season?
At Eagle Service Company, we're right there beside you cheering on the arrival of spring. In the meantime, however, we'd like to offer you the following 3 most common symptoms that something is not quite right with your furnace. That way, if you notice any one of them, you can call us for quick and dependable problem resolution before things get worse:
A sudden and dramatic hike in your home heating costs. If your latest heating bill left you gasping for air, then chances are something happened recently to negatively impact your system's performance. The problem could be within the furnace itself, your air distribution system, or even your thermostat.
Hot and cold spots. If you've enjoyed an even distribution of heat all winter long, and all of a sudden that's changed, again it's a situation well-worth investigating. Perhaps your ductwork has cracked and sprung a leak, for example, making it more difficult to heat a certain area of your home.
Loud noises. Heating systems are meant to be felt, not heard. But if, all of sudden, you're being treated to loud banging, popping, wheezing, or hissing noises, then any one of several problems could be at work. And none of them are very desirable.
So where does that leave us? Well, you can wait for the heating season to end and hope your system makes it through without causing you even a moment's grief. And then there's Plan B, and one that might just apply to you: if it's been a year or more since you last had your furnace professionally cleaned and inspected, why not take care of it now vs. putting it off until next fall? That way, we can take care of any little problems now before they become bigger and more costly to repair and, at the same time, thoroughly clean and inspect your furnace to ensure optimum performance and energy efficiency. For prompt and dependable service, we invite you to contact Eagle Service Company today.