You've been dreaming about it, saving for it, and planning it in your head for months – maybe even years. Suddenly, it's time to embark on your long-awaited remodeling project.
So, what's the last think you want moving forward?  Costly mistakes and delays, that's what!  That's why you'll want to avoid these 5 common home remodeling mistakes.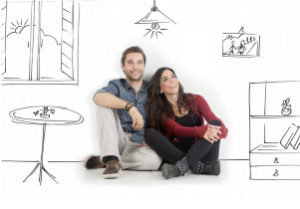 Not setting, and sticking to, a budget.
Remember that the quotes you often see for remodeling projects are simply estimates and averages. While you can remodel a bathroom for $5000, you're going to pay quite a bit more for such luxuries as floor-to-ceiling marble, a cast iron claw-foot tub, or a multiple-head shower system.  So be sure to price out materials and labor when setting your budget. Then, prioritize your must-haves so you know where to splurge and where to save.
Questioning your decisions.
Between HGTV and Pinterest alone, you could literally spend every waking moment digesting new and old design ideas. Then, just when you think you've made up your mind, something shinier, newer, and more exciting pops up. That's why you should consider your design ideas set in stone once the materials have been purchased and work has begun.  That's not to say you can't make small tweaks here and there, but changing your mind about the kitchen backsplash after it's already been ordered – or worse, installed – can set you back by weeks, and cost you a pretty penny to boot.
Scheduling work without materials.
When ordering materials, appliances, and furniture, keep track of when everything is expected to arrive and don't forget to factor in delivery time. Then, consult your contractor and schedule a start date for the renovation. Otherwise, you might find yourself without a usable kitchen or bathroom much longer than necessary.
Not staying organized.
Let's face it, remodeling means temporarily living in a construction zone. But you can make that experience more tolerable by staying organized. Find a place to store items you know you won't need for the duration of the project, and designate a place for everything else for quick and easy access.
Ignoring permits.
Whether you're doing the work yourself or hiring a professional, make sure you know what does and doesn't require a permit. Your father-in-law might swear that he didn't pull a permit for his sunroom addition and everything worked out fine, but should a nosey neighbor report you or an inspector happen to drive by, skipping this step could cost you big time. Also, don't assume that your contractor is pulling necessary permits, either. Ultimately, it's the homeowner's responsibility.
If your home remodeling project involves updating or placing any of your plumbing, heating, or cooling equipment, you'll find Eagle Service Company a ready and able addition to your project team. Talk to us early on the process so we can help you stay true to your goals and budget, too.  For a free in-home consultation and proposal, contact Eagle Service Company today.