From self-operating vacuums to cars that park themselves, there's no denying that technology is quickly finding its way into every aspect of our lives. Now, your bathroom can also be on the cutting edge of technology, too.
That's right, you can now turn your once purely functional bathroom into a customized, high-tech, magazine-worthy showpiece. And while some of the gadgets and accessories can set you back a pretty penny, many others are quite budget-friendly.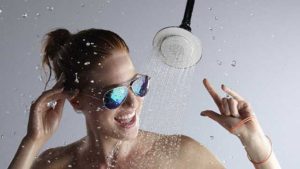 Here's just a sampling on the latest in bathroom technology.
A shower controller enables you to set the perfect water temperature, pressure, and stream, play music from Bluetooth enabled devices, and even program settings for up to four people.
Track more than just your weight with a body analysis smart scale. These sleek looking devices track your weight, BMI, body fat percentage, and even calorie intake via your smartphone, computer, or tablet.
Toilets have gone high-tech with models that clean themselves with every flush, conserve water, and offer the ultimate in luxury with motion-activated heated seats.
Enjoy the convenience of a hands-free faucet right in your own powder room. Available in many styles, finishes, and price points, these touchless (or one-touch) faucets automatically start and stop the flow of water while reducing the spread of germs. They also help to keep your sink area clean.
If you like to sing in the shower, you'll love reaching new notes of perfection with a showerhead speaker. This wireless speaker pairs with any Bluetooth enabled device to deliver your favorite tunes during your daily shower.
If you have tiled bathroom floors, you're no stranger to the shock of cold floors on bare feet—especially during the winter. So, the next time you plan to replace your bathroom flooring, ask us about an in-floor radiant heating system. It can be covered by virtually any flooring material. So, system even come with a programmable thermostat.
If your planned bathroom improvement includes plumbing, heating, or cooling, Eagle Service Company is ready to lend a helping hand. And, if you like, we have even more bath upgrade ideas to share with you.