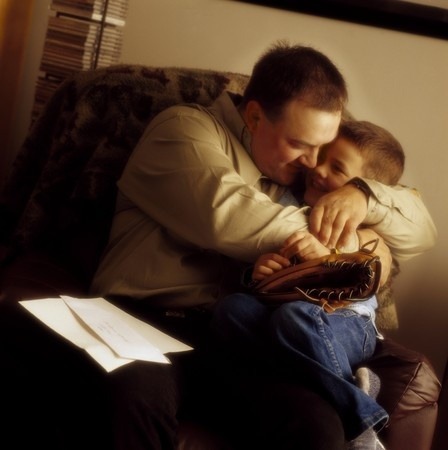 He kisses boo-boos away, coaches the baseball team, and looks for monsters under the bed. He's always there to talk and listen, and his love is unconditional. He's the first man his little girl will ever love, and the hero his little boy looks up to. He's dad. And this Father's Day, he deserves much more than a new necktie.
If you're looking for unique and meaningful ways to honor the special dad in your life, look no further. Here are 7 ways to make this Father's Day one to remember.
Plan a day or afternoon around his interests and hobbies. Is he a sports fanatic or a trivia buff? Would he rather spend the day at the beach or on a golf course? Whatever you do, make it about him.
Have the kids jot down their favorite things about dad in a journal. The younger ones can draw pictures, and the older ones can write about what makes dad the best in the world. You can even add family pictures. Then, present the journal to him on Father's Day.
Make him his favorite meal or take him out to his favorite restaurant.
Make a gift basket. Include a book by his favorite author, some delicious snacks, crossword puzzles, and whatever else you think he might like.
Breakfast in bed isn't just for moms! Have the kids help make breakfast and enjoy it together in bed.
For the handyman, build something together. A bird feeder or raised garden bed, or maybe start a more ambitious project he can work on with the kids throughout the summer.
Give him the gift of free time. We could all use a little down-time, and those hard working dads are no exception.
Here at Eagle Service Company, we salute dads everywhere for all you do in your personal and family endeavors.  And if there's anything we can to make things a little more comfortable and convenient for you around the house, be sure to let us know:  now or any time at all.