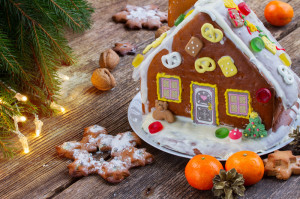 No holiday treat symbolizes the season quite like gingerbread, from candy-studded gingerbread men, to spiced loaves of bread, and even gingerbread flavored coffee and muffins.
Still, the signature expression of gingerbread making is surely a gingerbread house adorned with icing, candy, and a dusting of confectioner's sugar.
For many families, the act of building and decorating a gingerbread house is a time-honored tradition. But do you know why we only find gingerbread houses around Christmas time? Or how these little delectable houses even came to be so popular?
Here are 7 interesting facts about the origins of gingerbread, and the ever-popular houses that we all know and love.
Gingerbread is typically made with ginger and sometimes cinnamon, cloves, nutmeg, cardamom and anise. It is sweetened with any combination of brown sugar, molasses, light or dark corn syrup, or honey.
It is believed that gingerbread was first brought to Europe in the year 992 by an Armenian Monk, Gregory of Nicopolis, who taught gingerbread cooking to priests and other Christians.
Over time, gingerbread baking became a highly regarded profession. In fact, in the 17th century, only professional gingerbread bakers were allowed to bake gingerbread. The only exceptions were at Christmas and Easter.
Gingerbread houses originated in Germany during the 16th century, typically decorated with foil and gold leaf, and became associated with the Christmas holiday.
The popularity of gingerbread houses quickly rose after the publication of a well-known Brothers Grimm fairy tale "Hansel and Gretel".
Though the origins are unknown, Gingerbread House Day is celebrated each year on December 12th.
The world's largest gingerbread house was built by the Traditions Club of Bryan, Texas in 2013. The structure is 60 feet by 42 feet and stands 20 feet tall on a wood base.
As you prepare for the upcoming holidays, please let us know if there's anything we can do to enhance your family's indoor comfort – plumbing- or heating-wise – for an even merrier overall experience.