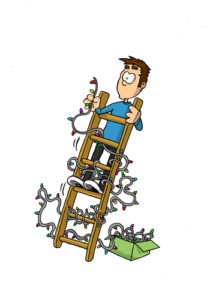 Whether it's simply enjoying a quiet night by the soft glow of tree lights or a festive and fun-filled gathering with family and friends, one thing's for certain: there's no place like home for the holidays.
But all that decorating, cooking, and entertaining can put your home and loved ones at risk for accidents, fires, and injuries. So as you're sprucing up your home for the holidays, tackle the following to-do list for a safer and happier season.
First and foremost, test your smoke and carbon monoxide alarms, and invest in a small fire extinguisher if you don't already have one. Make sure nothing is blocking exits and escape routes in the event of a fire.
Do not overload outlets and avoid connecting multiple extension cords together as they could spark a fire.
Prevent trips and falls by keeping floors clear of cords, toys, and decorations.
Inspect all plug-in decorations, lights, and cords for damage before plugging them in. And resist the urge to "fix" frayed wires with electrical tape.
Place any candles and breakable decorations out of reach of children and pets.
Keep young children away from cooking areas. Use back burners whenever possible and turn pot handles in towards the cooktop.
Keep your live Christmas tree from drying out by watering it daily.
As pretty as they are, certain holiday plants are poisonous to both people and pets. So be careful what you buy and where you place real mistletoe and other holiday season plants.
Using a space heater? Make sure it's inspected by a qualified independent safety company like UL. And place it at least three feet away from bedding, drapery, and any other flammable items.
Blow out candles and make sure the fire in your wood burning stove or fireplace is completely out before going to bed or leaving the house.
Here at Eagle Service Company, we wish you and your family a happy, healthy, and safe holiday season.