Lou Holtz, the former head coach of the University of Notre Dame Football team, once commented that even the person who graduates last from his or her medical school class gets called "doctor."  His point:  just because you have a designation doesn't mean you're at the top of your game.
Well, the same goes for plumbers and drain cleaning companies. Here at Eagle Service Company, are we at the top of our game?  That's not for us to say, but for you to decide.  Here's what we can tell you:  we're well trained, broadly experienced, our technicians take part in continuing training and development, and we offer our customers a 100% satisfaction guarantee.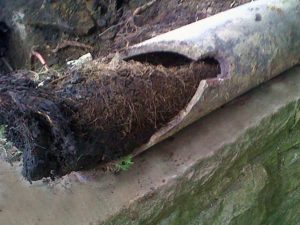 And yet, when it comes to something as potentially messy, tricky, and inconvenient (for you) as a clogged sewer or drain, being highly trained and skilled isn't enough.  Lots of local plumbers are.  But only a small group of us have the advanced tools that enable us to tackle even the most difficult jobs from start to finish.  How does that benefit you?  Because when you hire a drain cleaning company that can do it all, you won't be required to hire two or more companies to complete the same task.
So before you hire someone to clear, repair, or replace your problem sewer or drain, make sure they are fully capable AND equipped to get the job done with these advanced drain cleaning tools:
In-line video drain inspection camera. Our cameras enable us to pinpoint the exact location, extent, and cause of the blockage. If, for example, we discover an underground sewer pipe crushed by a tree root, we know instantly that no amount of drain cleaning will solve the problem. That pipe will have to be repaired or replaced as needed, and the tree roots near or inside the sewer pipe removed. No matter what's going on in a sewer or drain pipe, video inspection facilitates faster problem diagnosis, and that frequently leads to lower-cost solutions.

High-pressure water jetter. Our water jetters blast the inside of drain pipe with a high pressure spray of water that can cut through just about anything. At the same time, water is sprayed backwards to help propel the jetter through the pipe. It's a highly efficient and effective process. And one that helps ensure the blockage is removed completely.
Not all drain jobs require the use of a video inspection camera or high-pressure water jetter.  But what if yours does? To ensure you call the company that can handle any drain cleaning or repair job from start to finish, contact Eagle Service Company today. It's a smart and confident choice.