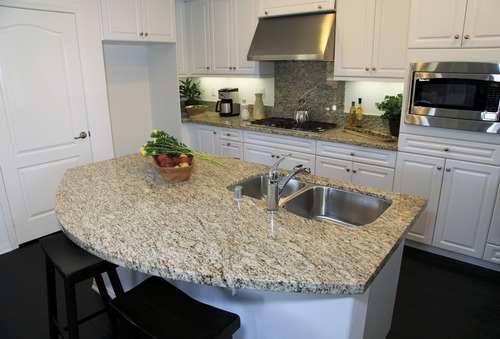 According to numerous reports, people are eating out less often, but not because of budget constraints. Instead, rising concerns about healthy eating are causing consumers across America to spend more time eating at home.
So the average residential kitchen, already a major of hub of family interaction, is slowly but surely taking on an even bigger role our daily lives. Of course, the more time you spend in the kitchen the more likely you are to focus on everything you find wrong with it, or added conveniences you'd like to see included, of which there are an endless variety.
How about you – looking for ways to transform the humdrum into the extraordinary? Here are just a few suggestions from Eagle Service Company.
Earth friendly materials.
From bamboo flooring to recycled glass countertops, the biggest trend in kitchens is sustainability. Today's eco-conscious families are looking for products and materials that are beautiful, functional, and environmentally friendly. Cabinets constructed with low or no-formaldehyde glues protect your indoor air quality while innovative Energy Star rated appliances and low-flow faucets lower energy consumption – and your monthly utility bill.
Texture, color, pattern.
While the classic white or cherry kitchen design isn't going anywhere anytime soon, more and more homeowners are looking to add a little pizzazz with outside-the-box decorating ideas. Contrasting cabinet colors, textured sinks and countertop edges, and colorful backsplash options are just some of the ways homeowners are letting their personal style shine through
Convenience is key in the kitchen. And designated work zones offer functional, smart storage solutions and enviable luxurious extras. A baking station can discreetly house all your necessary appliances, while a second sink can turn an island into a prep area. A coffee bar or wine station makes entertaining a breeze and creates a new talking point among family and friends.
The high-tech kitchen.
Technology is no stranger to the American home, including in the kitchen. Sleek touch screen cooktops, convenient hands-free faucets, and built in televisions and audio systems are just some of the high-tech gadgets you'll find in today's kitchen.
At Eagle Service Company, we offer the modern fixtures and skilled plumbing services to help bring many of your ideas to life. Have an idea or two you'd like to kick around? Then give us a call and let's see what kind of unique kitchen magic we can create once we put our heads together.