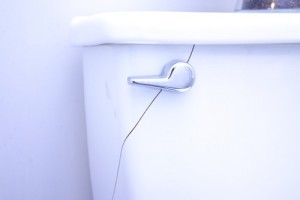 Besides being a nuisance, a leaking toilet represents a disastrous waste of water – up to 200 gallons of water per day.  And means more than 6,000 gallons of wasted water per month if the leak goes undetected or unrepaired.
If you have a toilet tank that's leaking water, it's clearly in everyone's best interest to find out and get it repaired or replaced just as quickly as possible.
How do you go about spotting a crack in your toilet tank?  Eagle Service Company has the answers:
Outside the Tank
The easiest cracks to spot are those on the outside of the tank, of which there are three basic types:
Hairline cracks at or near the top, and probably not causing a leak.
Hairline cracks along the side of the tank – those can usually be repaired.
Inside the Tank
If you suspect your tank is leaking water but see no such evidence on the exterior, it's to go looking inside.  But before you can do an effective job of that, you first need to drain the tank.  First, turn off the valve behind the toilet and then flush until the water in the tank is completely or nearly gone.  Then look inside for the following:
Hairline cracks on the top edge – more cosmetic than problematic.
Hairline cracks below the water line – these can usually be repaired with an epoxy.
Larger cracks below the water line – there's no effective way to repair these.
Let's say you don't want to go to all the trouble of draining your tank, but still want to know if, in fact, your tank is leaking water.  Here's an easy way to find out.  Grab a little food coloring and place a drop or two in the tank.  Then, about a half hour later, check the bowl and don't let anyone flush in the meantime! If the water has a trace of the same food coloring, you definitely have a leak.
For toilet or plumbing problems of any kind, contact Eagle Service Company today.  We provide service throughout the Birmingham area, and we guarantee your complete satisfaction with our work on your behalf.