With their sleek, shiny surfaces, high-tech showerheads, state-of-the-art lighting, and other modern day accessories, today's bathrooms are a far cry from your grandma's pink tiled powder room. But no matter how luxurious, souped-up, or basic your bathroom might be, one thing stays the same:  it poses serious safety hazards that need to be addressed to prevent minor and major injuries alike.
Now, you can help keep your family safe from slips, falls, scalds, and other common bathroom dangers by following a few preventive measures.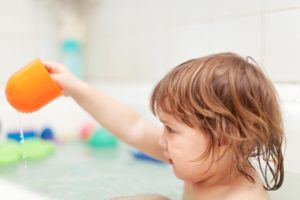 Drowning
It taks less than a few inches of water and just a matter of seconds for a person to drown, especially a child, in a tub. Never leave young children in the bathtub unattended. Gather everything you need for their bath before starting the water and putting them in. If you love to unwind in a tub full of water, avoid doing so when you're extremely sleepy, under the influence of alcohol, or any medications that may cause drowsiness.
Shocks
If your bathroom is not equipped with GFCI (ground fault circuit interrupter) outlets, especially those located near the tub, shower, or sink, contact an electrician to have them upgraded. Today, they're required by law in all new construction and remodeling projects.  Plus, avoid using electrical appliances near wet areas, and unplug them as soon as you're done.
Slips and Falls
Wipe up any water spills or splatters off the floor immediately. Place an anti-slip bath mat in front of the vanity, bathtub, and shower. If your bathtub or shower floor is not textured, consider installing anti-slip strips, and add an easy to install grab bar to the tub or shower wall.
Poisons
Keep cleaning supplies, medications, and any other dangerous items locked up or out of reach of children and pets. Consider switching to more natural household cleaning products and be careful not to throw toxic items in bathroom waste baskets that a young child or pet might get into.
Here at Eagle Service Company, we have numerous ways to help you safeguard your bathrooms, especially for small children, seniors, and those with disabilities.  From grab bars to high-seat toilets, anti-scald shower valves, walk-in tubs, and much more, let Eagle help turn your bathrooms into the safe havens they were meant to be.