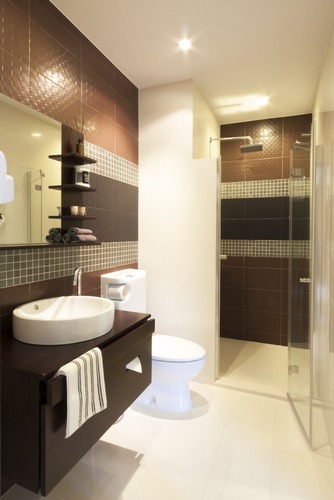 Seems as though Master bathrooms have all the fun – and get the lion's share of remodeling dollars, too! However, most homes one or more additional bathrooms that sometimes get overlooked when it comes to remodeling.
Well, here are a few ideas to consider if sprucing up, renovating, or adding a kids' or guest bathroom, or even a powder room to your home:
Keep it simple. A sink and toilet are the only must-haves in a powder room and small guest bathrooms. A round toilet bowl takes up less room than an elongated one, which may be worth the compromise in comfort that some users will experience. Consider a pedestal sink instead of a bulkier sink/vanity combination.
Splurge on the accessories. With so few accessories to consider, you can spend a little more to get exactly what you want. Invest in the faucet. It's an opportunity to bring something fun and sculptural into the space.
Kids and guest bathrooms. Focus on durability. The surfaces and fixtures will likely get lots of wear and tear, especially if children use the room. Plastic laminate flooring and countertops are durable and inexpensive, plus the kids likely don't care if they have high-end materials. As for fixtures, you still want high quality construction, including all-brass parts and a PVD (physical vapor deposition) finish that resists scratches. On the walls, choose an interior paint that resists mildew.
Don't forget the bathtub. You might not take baths, but every home should have a bathtub. Even when master bathrooms had whirlpool tubs, it was still customary for the secondary bath to have a tub, usually in the form of a shower/tub combo. A one-piece molded acrylic unit can cut down on cost and maintenance compared to one that's tiled.
Remember ventilation. A bathroom fan is critical in high-traffic bathrooms, especially those with a shower And since kids can't always be trusted to turn the fan on and off, spend more on a model that uses humidity sensors to operate the fan on its own.
Second bathrooms don't have to come in second best anymore, and can help add value to your home.
If your second bath plans include plumbing, then contact Eagle Service Company for all the help you need, including planning, installation, and sound advice.