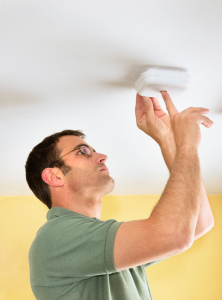 Your home is one of the single biggest investments of your life. And just like your health and even your car, it needs occasional TLC to keep it in tip-top shape. But the truth is, between work, the kids, and other commitments that demand our attention, it's easy to place routine home maintenance chores on the back burner. Sometimes indefinitely, and way too frequently, until a preventable problem forces you to take action.
So this year, reap the rewards of a well-maintained home by tackling that pesky to-do list now while it's still winter and before spring fever gets the best of you.
Clean around your washing machine, removing lint from the lint trap and vent. Use a sold bristle brush or sponge to clean around the opening of the washing machine and wipe with a wet cloth.
Clean out the inside of your refrigerator and freezer. Throw out expired items and wipe down shelves and produce compartments. Then, pull the refrigerator out and vacuum behind it.
Replace the water filter in your fridge or water filtration system.
Inspect faucets and toilets for leaks and repair or replace if necessary.
Clean your dishwasher. Place a cup of vinegar in the top rack of your dishwasher and run a hot cycle. Once complete, sprinkle a cupful of baking soda on the bottom and run a short hot-water cycle.
Tighten loose screws on cabinet knobs, door knobs, stair railing, etc.
Dust heating vents and clean or replace the HVAC filter.
Inspect, clean, and test your smoke and carbon monoxide detectors.
Check your sump pump to make sure it is operating properly. If it has a battery back-up, unplug the pump and test it.
Take an inventory of your home and possessions so that, should the need arise, you could substantiate an insurance claim in the event of fire, flood, or some other disaster. And update that list monthly or as you acquire new things.
In the course of performing home maintenance and taking general inventory around the house, check around your water heater for signs of leaking water, even if the water has dried up. Internal corrosion can lead to cracks in the lining of your storage tank and can result in leaking water. If you do spot such evidence, contact the professionals at Eagle Service Company so we can take corrective action now, and hopefully before it's necessary to replace your water heater.